Submitted by Paul on Fri, 12/31/2010 - 17:44
Posted in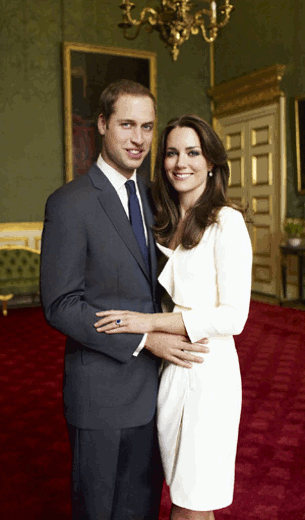 Formal Official Engagement Photo of Prince William and Catherine
Copyright 2010 Mario Testino
Prince William and Catherine Middleton's official engagement portrait photos were released by Clarence House on 12 December 2010. The two photos were taken on 25 November in London by professional Peruvian photographer Mario Testino during a two-hour shoot and were selected by William and Catherine themselves, Both photos capture perfectly the radiance and warmth between the happy couple.
The more formal of the two photographs which were released was taken in the sumptuous Council Chamber in the State Apatrment at St James Palace which is linked to Clarence House. Here, surrounded by paintings of some of William's ancestors hanging on the green wall, William and Catherine are pictured standing together, gently holding each other on the room's plush red carpet. Prince William looks smart in a formal Turnbull and Asser suit, white shirt and blue tie. Catherine is completely elegant in a one-piece knee-length white dress with its own belt and draped collar from high-street fashion chain Reiss, which amazingly is thought to have only cost around £170. Links earrings and Catherine's engagement ring complete the graceful effect.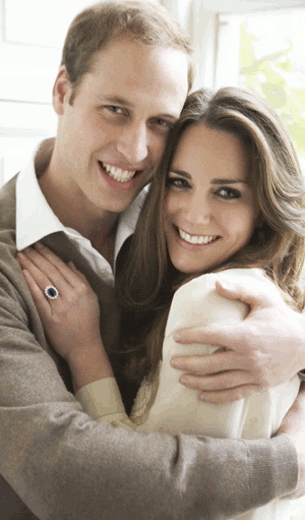 Informal Official Engagement Portrait Picture of Prince William and Catherine
Copyright 2010 Mario Testino
The second, less formal photo shows William and Catherine in a loving hug. This was photographed in the Cornwall Room at St. James's Palace and shows William looking smartly casual in a beige Brunello Cucinelli jumper which photographer, Mario Testino apparently lent the Prince for the photoshoot. Under the jumper, William sports a shirt by Turnbull and Asser. Held adoringly in Williams arms, Catherine wears a cream colored silk blouse from Whistles which it is estimated cost around £95. Catherine's engagement ring is prominently shown as the couple hold each other.
Photographer, Mario Testino described the Royal couple as " in their prime and brimming with happiness". He expressed his own happiness at being chosen to mark this historic occasion, and said "I have never felt so much joy as when I see them together."
Mario Testino was the favourite photographer of Prince William's late mother, Princess Diana, and has taken a number of photos of members of the Royal family over the years. One memorable photo shoot he did with Diana for Vanity Fair was only 5 months before her death and included some of the most beautiful shots of her leaning gracefully on a studio sofa.
Another of Testino's photo shoots with Princes William and Henry and their father, Prince Charles in 2003 resulted in a lighthearted fun family photo which was used for Prince Charles' and the younger Princes' official Christmas card for that year. For the following year, Mario Testino again was the photographer for Charles' Christmas photo, this time featuring Charles and his two sons in casual poses, all dressed in white shirts and chinos which Testino had asked them to wear especially for the shoot.
In September 2004, Testino took photographs for Prince Harry's 20th birthday. His photographic services were also used for William's 21st birthday on 21 June 2003. He is also well-known for capturing stylish photos of many other celebrities including Cameron Diaz, Angelina Jolie and Brad Pitt. In 2010 he shot Emma Watson of Harry Potter fame with her younger brother for a Burberry Advertising campaign,
As well as being a reputed photographer, Testino is also known for his charitable activities. He has contributed toward a number of causes including Elton John's Aids Foundation, and has raised money to build a playground in a children's hospital specializing in cancer treatment in Moscow as part of his work as Ambassador for Save the Children.
The fact that Mario Testino is well known by William probably contributes toward the genuinely relaxed look of both the photographs.
Catherine did her own make-up for the photo-shoot, just as she had done for the official engagement interview the week before. Testino's make-up artists were on hand in case any touch-ups were needed during the shoot. Catherine's hair was done by James Pryce, her usual stylist, from the Richard Ward Salon